Brad Russell
Private Client
I've been working with Chris for approximately 3 years now. Initially, I saw him for injury rehabilitation as I was constantly getting injured from football. With his knowledge, we were able to incorporate various exercises in to my training schedule to reduce my risk of injury (and speed up the rehabilitation process).
After initial period, I've since become a regular personal training client. What I love about our sessions is they are not your standard PT sessions. We devise a plan to improve my strength, flexibility, injury preventation and so on, and we work towards that plan by incorporating a range of different exercises in to my program.
I'll be a regular client with Chris for years to come. His friendly demeanor also makes those hard sessions that little bit easier!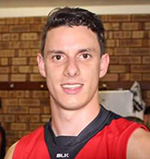 Brenn Douglas
Private Client
I incurred a hamstring tear playing football and thought my season was over.
Following a comprehensive assessment, Chris was able to write up an easy-to-follow program, and explicitly guided me through each exercise so that I was able to recover appropriately.
He also provided me with reasonable stretches and preventative measures to combat the same injury from occurring again. I ended up recovering in no time and was back to playing competitive football better than ever.
Thanks for everything Chris!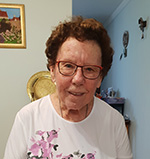 Ruth Mickelson
95 Year Old DVA Patient
Chris has been working with me for 3 years helping me manage my osteoarthritic knees, as well as helping improve my strength and balance.
Being 95 years old and no longer able to drive, the home visit service is a great assistance to me.
I have always found Chris to be prompt, caring and considerate while always being understanding of my needs. My twice weekly sessions are of great help as they keep me mobile and motivated. I am greatly appreciative of Chris's friendly help and professionalism.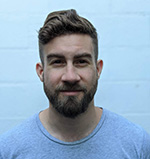 Mat Palumbo
Private Client
I've been training with Chris for about 2 years and I'm really happy with the results.
He began helping me with rehab for a knee injury which gradually evolved into a much more intense overall training program. He's worked closely with me to set and achieve my goals based around the time I had available.
I recently completed a 6 week weights program with big improvements in every area.
Anna Leung
68 Year Old Medicare Client
I had a back fusion last year, have knee and leg problems, and am very arthritic. Have been seeing Chris since last year and he has helped me immensely.
He worked out a exercise program for home, as well as pool exercises. I do them religiously and have had much improvement with my problems. Chris is fantastic, he listens and knows exactly what you need. The exercises are very gentle, but it is amazing how they have improved my mobility. ( I am 68 years young)
I cannot recommend Chris enough; he knows exactly what exercises will help and is always very positive and encouraging.